Lunch at an Italian bistro is simply not complete without a delicious plate of spinach lasagna or spaghetti Bolognese. Pasta is one of the best things to come out of Italy.
Making pasta has become an art for Italians. So much so that it became so diverse. There are a hundred types of pasta to choose from, thanks to them.
It is a pleasure for every working mother to cook special and tasty dishes for her family at her own comfort. One such dish is chicken pasta, which is sure to delight even the pickiest child.
However, when we talk about chicken pasta recipes, we are not just referring to the typical "meat and tomato sauce over spaghetti" meal. Since chicken meat is such a versatile ingredient, you can incorporate it into a wide variety of pasta recipes, including bolognese, carbonara, alfredo, and even stir fry. Fat-conscious cooks can replace pork and beef in their favorite chicken pasta recipes.
Here are two varieties of chicken pasta recipes for you and your family to enjoy …
Chicken Pasta (Cajun Chili Style)
Ingredients:
4 boneless, skinless chicken breast halves
4 teaspoons Cajun seasoning
4 tablespoons butter or margarine
3 cups heavy cream
1/2 teaspoon lemon pepper seasoning
1 teaspoon salt
1 teaspoon black pepper
1/4 teaspoon garlic powder
8 oz. penne pasta, cooked and drained
2 roma tomatoes diced
Grated Parmesan cheese (for sprinkling)
Instructions:
1) Lightly moisten the chicken breasts with water.
2) Inside a resealable plastic bag, pour your Cajun seasoning, making sure the inside of the bag is dusted with seasoning. Put the chicken breasts in the bag. Shake the bag until the chicken is completely coated with your seasoning. Add more seasonings if necessary.
3) Sauté the chicken in a large skillet with 2 tablespoons of butter over medium heat. Adjust your stove flame as needed to prevent overcooking.
4) When the chicken is half cooked, begin making the sauce by mixing the heavy cream, 2 tablespoons of butter, and other seasonings in a second skillet over medium heat. Stir occasionally.
5) Once the cream sauce starts to bubble, add your pasta and turn off the stove. Stir very well.
6) Once the chicken is cooked, cut it into strips on a cutting board.
7) To serve, distribute pasta and sauce onto serving plates. Top with chicken strips, diced tomatoes, and Parmesan cheese. If you want to add more spices to your pasta, sprinkle additional Cajun seasoning on top.
Chicken Penne Pesto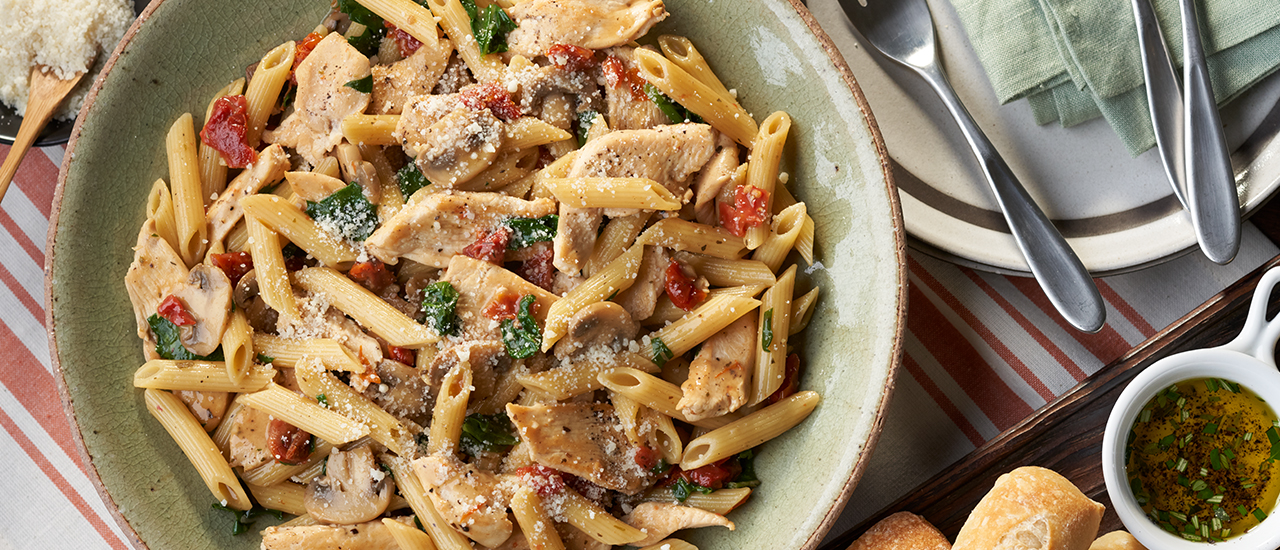 Ingredients:
2 large boneless skinless chicken breasts, diced
10oz / 300g Penne (or other, you can replace with paste of choice)
5 tablespoons pine nuts
1 teaspoon of sea salt
3 tablespoons fresh basil, finely chopped (or replace with 3 teaspoons dried basil)
4 tablespoons of extra virgin olive oil
1-2 garlic cloves, crushed
Parmesan cheese (for sprinkling)
Instructions:
1) Boil the pasta in salted water. To prevent the paste from sticking, add a little olive oil.
2) With very little oil, fry the diced chicken in a frying pan or frying pan.
3) While cooking the pasta and chicken, grind the pine nuts and sea salt in a mortar or blender. Add basil, olive oil, and garlic to your ground pine nuts and salt to complete the pesto sauce. Mix well in a large plate.
4) Place the cooked pasta and chicken on the plate containing the pesto sauce and mix well. Sprinkle Parmesan cheese on top. Add more pine nuts to decorate. And ENJOY!